One of the questions I'm asked most frequently by clients who are considering adopting a plant-based diet is "How do I stick to it when I'm travelling?" Obviously, how difficult or easy it is to remain 100% plant-based on the road depends on where you're travelling, but in most parts of the world, it's relatively easy.
My family and I are just wrapping up a 10 day visit to the North Island of New Zealand. Although the country is still heavily dominated by the dairy, beef cattle and sheep industries (it's pretty disconcerting to see the giant "Welcome to the Home of Pure Dairy" billboard placed by dairy giant Fonterra as you leave Auckland airport), the plant-based revolution is gaining a foothold.
Auckland is home to a number of vegan and vegetarian cafes and restaurants. We enjoyed lunch at Green Time, an all-vegan eatery run by ex-lawyer Kitty Lin, who discovered the environmental benefits of a plant-based diet at a sustainability conference.
Not only was the food delicious – I highly recommend ordering one of the Tasting Plates so you can sample a selection of Green Time's fresh and innovative food; we chose the Burger Platter – but while you're waiting for your food to arrive, you can check out the very cool wrap-around mural that tells the story of Kitty's awakening to the impact of animal agriculture on earth's fragile environment, and how this led her to open the cafe.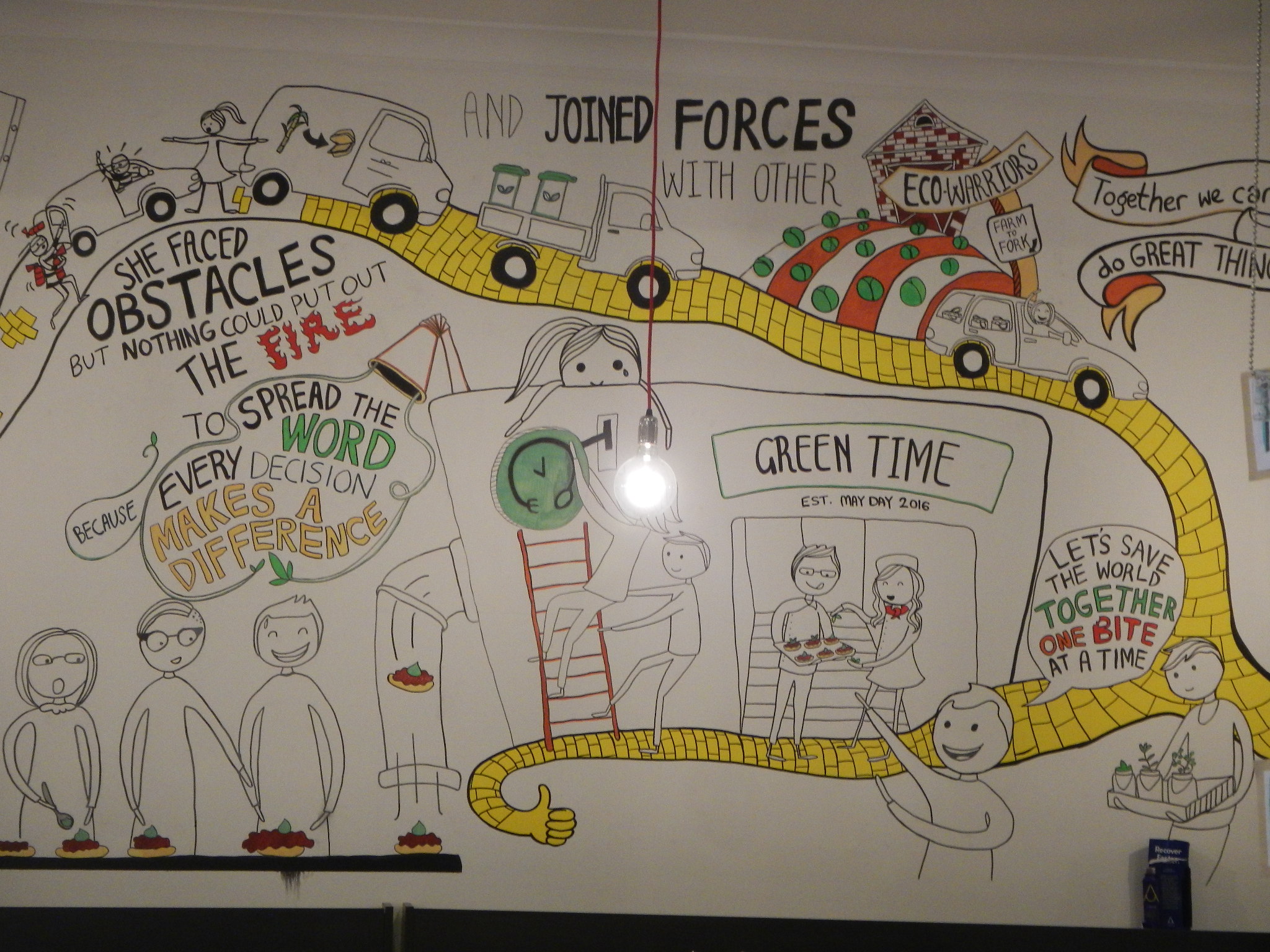 By the way, Green Time's Matcha Chestnut Cake is also pretty amazing!
Some of Auckland's best vegan eateries aren't open for dinner, but we struck gold when Happy Cow, the plant-based eats advisor, suggested Sunflower Thai. The menu is heavy on mock meats which I avoid both for health and taste reasons (after more than 30 years of not eating meat, anything with a meaty texture turns me right off).
However, their red curry and panang curry both featured tofu instead of mock meats, and it was such a treat to enjoy a Thai curry without having to worry about whether the curry paste contained shrimp! The steamed dumplings were also delicious.
We stumbled across the Little Bird Unbakery in central Auckland and just had to sample their raw vegan desserts and delicious hot chocolate :).
Revive Cafe offers a rotating daily menu of delicious salads, curries and hot-pots, although watch out for non-vegan ingredients in some of the salads. We hung onto the durable, earth-friendly take-away containers that our Revive meals came packed in, and they proved very handy for packing subsequent lunches for roadside picnics and hiking.
We stayed in the Quest Apartments in Carlaw Park, on the fringes of Auckland's CBD. With a well-equipped kitchen and full-sized fridge and freezer, we were able to stock up on fruits, vegetables, rice and beans from the local supermarket and Asian grocery. We found food – both groceries and cafe/restaurant fare – considerably more expensive in New Zealand, even taking the exchange rate into account, but   preparing many of our meals at 'home base' still saved us money and kept our daily fresh produce quota high!
After 4 days in Auckland we were off to Matamata, home of the Hobbiton film set that was used in both The Lord of the Rings and The Hobbit trilogies. As a self-confessed J.R.R. Tolkien tragic, I was in seventh heaven as our tour guide walked us through Hobbiton, all the way to the Green Dragon, sharing tidbits about the construction of the set and the film tricks that were used to make regular-sized actors appear hobbit-sized.
Matamata is not exactly vegan-friendly though, so all our meals were prepared in our motel kitchenette. It's amazing what you can produce with an electric skillet, some fresh and frozen vegetables, a can of beans, a bottle of passata, and a little imagination!
The packet of falafel mix that I'd picked up at a roadside greengrocer along the way, actually cooked beautifully in the electric skillet, providing us with several days worth of tasty falafel to stuff into salad and hommous wraps – our standard lunch fare when travelling or hiking, which we enjoyed immensely in nearby Rotorua.
From Matamata it was north to the Bay of Islands. We stayed in the seaside town of Paihia, just a short walk from the historic Waitangi Treaty Grounds, at which New Zealand's founding document was signed.
While great for history buffs and hikers (or 'trampers', to use the Kiwi terminology), Paihia is not exactly vegan-friendly. The local restaurants and cafes feature every form of dead animal, land and marine, that you can think of, while the supermarkets are not well-stocked with plant milks, tofu or other vegan mainstays.
Luckily, our tiny motel kitchenette came equipped with two hotplates, a microwave oven and a sandwich press. Place some baked potatoes in the microwave until they're well-cooked, then squash them as flat as you can get them in the sandwich press, and you have – ta da – the potato 'squaffle' (squashed waffle).
We enjoyed ours topped with a delicious mixture of canned chickpeas, passata, frozen spinach and corn, and some mushrooms and capsicum, cooked on the small but adequate hotplate.
We also stumbled across the Orange Frog, which offers mostly plant-based food including 3 delicious burgers – the black bean and beetroot was particularly more-ish – and a to-die-for black bean and sweet potato brownie.
(Apologies for the lack of photos of any of the meals I've mentioned in this blog post; my family scarfs down food before I can even snap a pic :).)
So there you have it – you can eat plant-based while on the road, with just a little forethought and some help from Happy Cow!