When I was invited to speak at the Nutrition in Healthcare 'Young at Heart' Symposium, held in Sydney on Sunday January 14, I got pretty excited (dare I say, my heart skipped a beat ;-)?). Not only was the topic that I was given – psychosocial influences on cardiovascular health – of great personal and professional interest to me, but the 'headline act' at the symposium was none other than Dr Kim Williams, whom I've been dying to meet for years, since he presented the inspirational keynote at the 2015 International Plant-Based Nutrition Healthcare Conference in Anaheim.
President of the American College of Cardiology in 2015-16, and vegan since 2003, Williams launched a thousand memes when he quipped:
"There are two kinds of cardiologists: vegans and those who haven't read the data."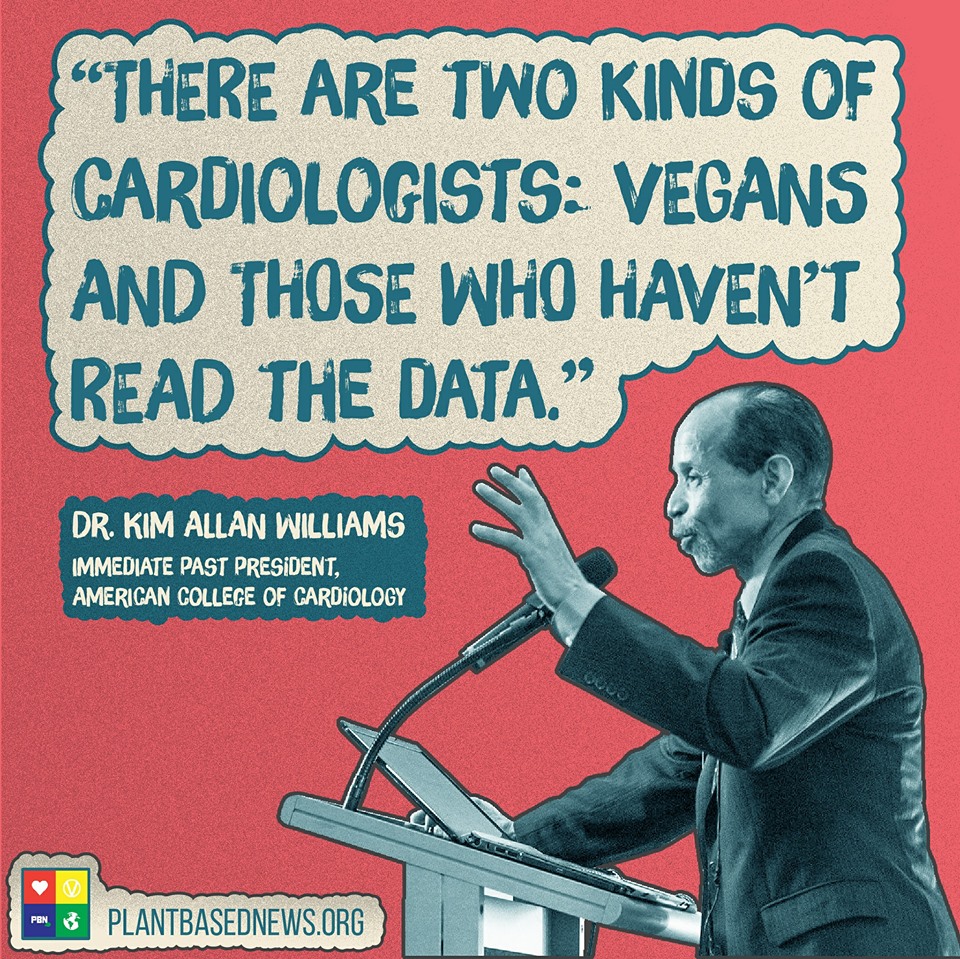 But despite the controversy his statement generated, Kim Williams is not out to get in anyone's face. In fact, he's a charming, modest and likeable individual; a dedicated student of the medical literature; an extraordinarily hard worker who has amassed Board Certifications and leadership positions like other people collect fridge magnets; and is completely committed to his mission of reducing the needless carnage inflicted by cardiovascular disease – particularly on minority groups such as the African American community from which he hails.
Having lost several of his close colleagues to heart disease, he's also on a mission to change the fact that cardiovascular disease is the leading cause of death among cardiologists, the specialists who supposedly know more about preventing and treating it than anyone else. If that doesn't make you stop and think, I don't know what will.
As symposium organiser, Lucy Stegley of Raw Events shared, Dr Williams arrived at Sydney's Royal Prince Alfred Hospital straight off the plane from a gruelling trans-Pacific flight, yet he attended closely to each presentation, gave generously of his time to all the audience members who wanted to speak to him – or grab a selfie with him – during the break, and delivered a spell-binding keynote on his personal transformation to an outspoken 'vegan cardiologist' and champion of preventive cardiology.
The presentations truly ran the gamut of Lifestyle Medicine approaches to cardiovascular disease:
Vegan psychologist Clare Mann opened with 'Calming the Cardiovascular System: Stress vs Stillness', a thought-provoking discussion of the profound effects of our beliefs and thoughts on our emotional and physical well-being, and even our chances of survival. Clare mentioned several cases, documented in the literature, in which people who had mistakenly been given a terminal diagnosis, and duly died at the time their doctor had told them they would, were discovered on autopsy not to have the deadly disease at all! The moral of the story: be careful what you believe in – it may just kill you.
Yours truly was up next, with 'Heartbreak and Health: Psychosocial Influences on Cardiovascular Disease' – a call for clinicians to recognise the profound effects that loneliness, social isolation, depression, purposelessness, alienation and other psychosocial factors exert on people's risk of developing and dying from cardiovascular disease. Many audience members approached me afterward to thank me for sharing the story of my father, who quite literally "died of a broken heart" – even though he had all the knowledge and support he could have asked for to turn his chronic disease around, the lack of love and fulfillment in his life prevented him from taking actions that would have saved his life. As I told the audience, health professionals need to "go beyond the kale" – our clients and patients don't just need instruction on how to eat a wholefood plant-based diet, they need to find reasons to do it, which essentially comes down to reconnecting to love in their lives.
Drs Heleen and Alphonse Roex then took the audience on a fascinating tour of the research supporting a wholefood plant-based diet, with their presentation 'How to Interpret Nutrition Studies: Weighing Up the Evidence'. Next, Heleen got us all thinking about our childhoods – in a very different way – when she summarised the literature on 'Pregnancy and the Early Years: The Foundations of a Healthy Heart'. Shockingly, a mother's diet during – and even before – pregnancy profoundly affects her baby's risk of cardiovascular disease throughout life.
Next, Melbourne GP Dr Malcolm Mackay posed the question 'How Wholefood Plant-Based Do You Need to Be?', illustrating with examples from his own patient files. The answer is – it depends! Your family history, personal health history (including, as Heleen pointed out, what your mother ate when she was carrying you in her womb), current state of health and future goals all impact on this decision. Taking into account my terrible family history of type 2 diabetes, rather sickIy childhood, enjoyment of my current health status and firm intention to still be working and doing adventure travel in my 90s and beyond, I tend to land where Malcolm lands: 100% wholefood plant-based is for me!
Implant and cosmetic dentist Dr Helen Voronina – another Melbournite – connected the dots between oral and cardiovascular health in her presentation 'Dental Health: Getting to the Heart of the Matter'. Taking care of your teeth and gums, it turns out, doesn't just help keep your smile intact – it could save your life. As well as daily brushing and flossing and regular dental check-ups, Helen is a staunch advocate of a wholefood plant-based diet – definitely without added sugar – for good oral and general health.
After a delicious plant-based lunch from Shift Eatery, Dr Kim Williams took the stage, delivering the keynote 'Young at Heart: How Nutrition Can Help or Harm Your Cardiovascular Health At All Stages of Life'. My favourite moment was when he described his own epiphany: Having recently discovered that his LDL cholesterol was worryingly high, he was reviewing a patient's nuclear cardiology scan. He was surprised at how dramatically the blood flow to her heart had improved since her last scan, since she had not undergone any treatment at his hospital in the mean time. He phoned her up to find out where she had had her bypass operation. "I haven't had a bypass," she replied. "I just followed Dean Ornish's diet." To his credit, instead of dismissing his patient's claim, Williams began investigating Ornish's work. He was so impressed by the quality of his research and the magnitude of effects of lifestyle intervention on cardiovascular disease, that he decided to adopt a vegan diet.Dr Williams echoed Dr Helen Voronina's emphasis on sugar as a significant dietary villain, pointing out that sugar consumption shows remarkable parallels with saturated fat consumption, and both are damaging to our hearts.
Finally, dietitian and – thanks to a wholefood plant-based diet – former multiple sclerosis patient, Dr Conor Kerley enthralled us with his delightful Irish brogue and sense of humour in 'Blood Pressure and Vegetables: Can We Beet Hypertension?' Conor has contributed significantly to the body of research on the power of the "miracle molecule" nitric oxide, produced by our gut bacteria when we eat leafy green vegetables and beetroot. Not only does nitric oxide dilate blood vessels, improving blood flow, lowering blood pressure, and easing the pain of angina and intermittent claudication suffered by coronary heart disease patients; it also enhances athletic performance by increasing the amount of energy and benefits sufferers of chronic obstructive pulmonary disease and obstructive sleep apnoea.
Symposium presenters: Back row L to R: Dr Conor Kerley (dietitian), Dr Helen Voronina (dentist), Clare Mann (psychologist), Dr Kim Williams (cardiologist), Dr Heleen Roex (paediatrician – non-practising), Dr Alphonse Roex (obstetrician & gynaecologist), Dr Malcolm Mackay (GP). Front row L to R: Katrina Fox (MC, journalist), Robyn Chuter (Lifestyle Medicine practitioner)
The one 'lowlight' of this amazing day: despite the symposium taking place within the grounds of Royal Prince Alfred Hospital – one of the leading tertiary referral centres in NSW, and the principal teaching hospital for the University of Sydney's medical school – medical students and hospital staff were conspicuous by their absence. As a symposium attendee commented to me, "The 2016 President of the American College of Cardiology was giving a keynote presentation on their doorstep and they couldn't even be bothered to move their a***es to go and see him."
All I can say to those doctors and medical students is, you don't know what you're missing. I hope you don't have to watch too many of your patients suffer and die unnecessarily before you wake up to the power of plant-based nutrition and Lifestyle Medicine.
If you're kicking yourself for having missed out on this amazing day of learning, never fear:
Concerned about your cardiovascular health? I'm now offering my clients an extremely well-tested method for assessing arterial health, which gives you a heads-up on your cardiovascular risk a good ten years before the age at which blood pressure typically rises, by measuring arterial stiffness. The SphygmoCor device was developed at the University of New South Wales, and is now in use all over the world. It's a quick, completely safe and non-invasive test which equips you to take control of your health destiny. Contact me to book a SphymoCor assessment.